Pre-Kindergarten
Community Pre-Kindergarten 2021-2022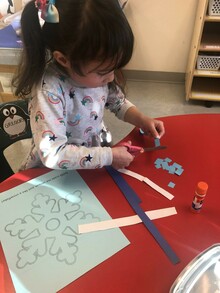 (CURRENTLY OUR PRE K PROGRAM IS FULL FOR THE 2021-22 SCHOOL YEAR) 
Community Pre-Kindergarten program provides an optimum and highly engaged program for each child. This is a place for growing, learning, understanding, curiosity, discovery and fun—all in a safe, caring and faith filled learning environment. At the heart of St. Benedict's Catholic pre-kindergarten program is a desire to see each child grow in their understanding of how they are loved and valued by God.
St. Benedict School offers Monday/Wednesday and Tuesday/Thursday pre-kindergarten morning programs. 
Morning class times are 8:45 a.m. -11:15 a.m.  Your child must be 4 years of age prior to December 31 of the calendar year that you are registering in. 
No fundraising is required.
Fees for the 2021-2022 year are as follows:
$100 Registration Fee (Nonrefundable)
$50 Supply Fee
$800 Preschool Program Fee (Payments to be set up in August)
PUF Program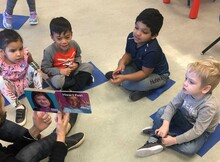 The Early Childhood Services (ECS) Program Unit Funding (PUF) Grant is provided for a child with a severe disability or severe language delay who requires additional supports beyond.
To be eligible for a maximum of two years of PUF, children must enter ECS (PreK) at a minimum age of 2 years 8 months.
Students need to be minimum of 2 years 8 months of age and less than 4 years 8 months of age on September 1 of the calendar year you are registered in, and have not yet accessed two years of ECS (PreK) programming
A child's eligibility for PUF will be based on all of the following:
Assessment by a qualified professional of a severe disability or severe language delay.
Documentation that demonstrates the severity of the impact the child's diagnosis has on the child's ability to participate and engage in learning in the ECS educational program.
Please contact the school office @ 780-986-7480 for more information.